I promised a post on the Tour De France, after all living in Sheffield who could ignore the fact "It's coming" on the the 6th July.
The city is covered in yellow bikes and bunting....
There are t-shirts and mugs and any other merchandise you could want for sale.....
and some fantastic wall murals like this one by Rob Lee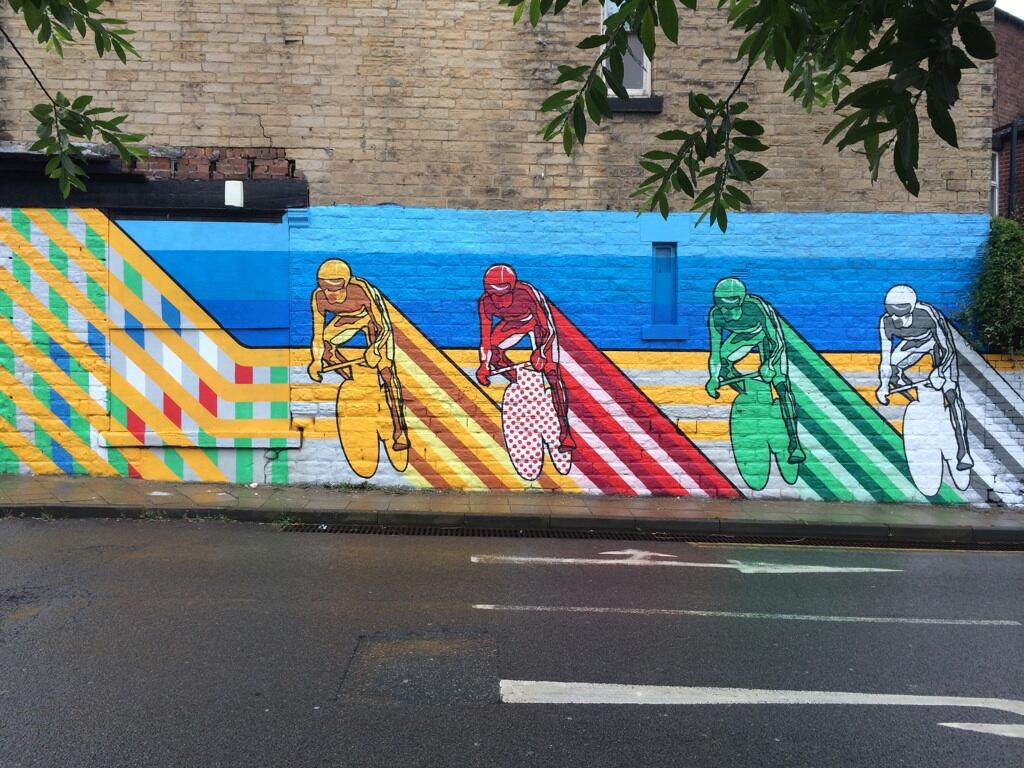 Yes out of everywhere in the world (what's wrong with well ........ FRANCE?) Sheffield has been named the city for the second stage of the Grand Depart.
Here are some little (?) known fact about the 9th city in the UK... Sheffield....
Population
: 551,800 inhabitants ..... quite a few of whom have day jobs and lives that suddenly are supposed to stop for this 'major' sporting event.
Events
: We are already the home to the Snooker World Championships, Sheffield Wednesday, Sheffield United, Sheffield FC (football, the world's first football club, founded in 1857), Sheffield Steelers (ice hockey), Sheffield Sharks (basketball) and Ponds Forge International Sports Centre.
Economy
: Sheffield was the centre for iron and steel until the 80s. In the 21st century the main business activities are advanced manufacturing systems, creative and digital industries, medical technology. The University of Sheffield and Sheffield Hallam University
Culture
: Whilst Sheffield is most famous for it's Lyceum and Crucible theatres it also hosts the Winter Gardens (one of the largest temperate glasshouses in Europe), the O2 Academy, the Millennium galleries, Graves park, Kelham Island and Weston Park Museum.
Festivals
: We are home to Doc Fest (documentaries), Tramlines (Music), Off the Shelf (literature) and MADE (The Entrepreneur Festival)
Other reasons Sheffield has made a name for itself ....
Henderson's Relish (spicy sauce),
Liquorice Allsorts (assortment of liquorice sweets)
The Arctic Monkeys
Pulp
Def Leopard
A really good Children's Hospital
The Full Monty
and our brilliant (questionable at the moment) Tram network.
Sunday 6th July will see Sheffield grind to a halt as roads are closed, residents are blocked in and told they cannot use their cars, major contingency plans for emergency services and carers to provide the needed care as they will be unable to access certain roads.
And this is all in the name of ........the Tour De France.... or Yorkshire (why!).
Don't get me wrong I want the boys, like the Olympic Torch, to see this event. We went out and celebrated then and we had planed to again.
Unfortunately Ben has been invited to a birthday party at 3pm - right when it is due to arrive in Sheffield and I really can't face the crowds on Sunday. We may venture into town on the Saturday for some atmosphere and show them the race on the big screens but that's as close as they will get.
Sheffield's Pram Man
So from afar I would like to offer my support and encouragement to the Sheffield Pram Man (aka John Burkhill) who we often see around. For anyone not from Sheffield 75-year-old John has dedicated his life to raising funds for Macmillan Cancer Support since losing his wife June and daughter Karen 25 years ago. After 970 races for charity, raising £251,253 so far (well on his way to his £1million target), John is taking to the 14-and-a-half Oughtibridge to Attercliffe route with his trademark pram all the way, as well as wearing his signature bright green wig and bringing along his Olympic Torch.
Not as fast as the bikes he will be setting off at 10am from The Hare and Hounds pub in Oughtibridge before finishing at Sheffield Arena at 4pm (just before the bikes should get in). If you see him he would love to say "Hi".
Joining him for part of walk will be 12-year-old Shaun Daley, a pupil at Ecclesfield School in Chapeltown, who has raised £3,500 for Macmillan, which helped his great-grandmother before her death from cancer.
picture from: www.thestar.co.uk/